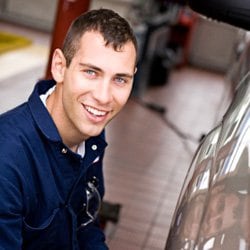 While we at O.C. Welch Ford Lincoln pride ourselves in selling extremely reliable vehicles, the inevitable is bound to happen as the time, and the mileage and the other drivers take their toll. But we believe that our dedication to your Ford doesn't end when you drive it off the lot. So with all of this in mind, we have our Parts Center standing by.
Connected with our Service Department, our Parts Center is staffed with trained technicians who know your vehicle and are ready to recommend the genuine Ford parts specifically designed for your vehicle. We also maintain a list of parts specials as an incentive to get your car truck or SUV the care it needs and your wallet the savings it needs.
But, like every other aspect about our dealership, we believe your time with us should be as easy and hassle-free as possible and with our Parts Center that means starting the process right here on our website. We want to offer you the chance to learn which tires you need as well as give advice on brakes and oil changes, saving you time out your day.